A Fan's Perspective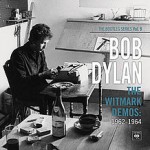 Musician friends of mine often give me their demos, new songs they've recorded with their bands or on their own, which haven't been produced (whatever that entails) mixed or fixed for public consumption. When I later run into the friends, usually at shows, we'll discuss the demos and my heart will sink a little when, after I mention how much I love a particular song, they'll say: "Oh, yeah, we have to re-do that one. There's a guitar flub just before the second verse." Later, when the album is released, I'm often disappointed. The spontaneity, the in the moment vitality and the sense of reaching for something new that I loved will have been dampened in the pursuit for musical perfection. The following summer (or whenever) when I'm choosing what music to take on the long drive up to the cabin, I'll leave the finished CD on the shelf and grab the demos.
The ninth installment in Bob Dylan's on-going Bootleg Series, The Witmark Demos, consists of forty-seven Dylan compositions he recorded solo, in a casual setting, for his publishing company. The demos were made so the songs could be copyrighted and pitched to other performers.
The first eight songs of this set were recorded, not for Witmark, but for Dylan's first publishing company, the comparatively smaller, Leeds Music. Dylan described the recording session which took place in Lou Levy's cluttered office (the top man at Leeds) in his autobiography, Chronicles, vol. 1.
"The moon was rising behind the Chrysler building, it was late in the day, street light coming on, the low rumble of heavy cars inching along in the narrow streets below-sleet tapping against the office window. Lou Levy was stopping and starting his big tape machine-diamond ring gleaming off his pinky finger-cigar smoke hanging in the blue air. The place was like a room used for interrogation…beside Lou's old metal desk were a couple of wooden chairs and I sat forward in one of them strumming songs off the guitar."
The eight songs Dylan recorded that winter's night were not lyrically ground-breaking, but still sound fresh almost fifty years later. Dylan's Maybelle Carter crossed with country blues guitar playing is crisp and there's no harmonica which might have sounded shrill in this lo-fi setting. His singing is confident and he's obviously having fun. It was January, 1962, and he was twenty years-old.
"I didn't have many songs," Dylan explained in Chronicles, "but I was making some compositions (up) on the spot, rearranging verses to old blues ballads, adding an original line here or there, anything that came into my mind-slapping a title on it. I was doing my best, had to thoroughly feel I was earning my ($100) fee."
"Poor Boy Blues," a fascinating cut, is an almost direct imitation of Bukka White, right down to Dylan copying White's drawn-out moans leading into and out of each line. (Listen to White's "Parchman Farm Blues" from Harry Smith's Anthology of Folk Music vol. 4.) It's audacious for a baby-faced kid from Northern Minnesota to mimic White, but it swings. The unusual, drawn-out-vowels singing may be a forerunner of Dylan's later, controversial, singing-style.
"Standing on the Highway," the other stand-out blues from the Leeds sessions, appropriates lyrics from Robert Johnson's "Crossroad Blues." Instead of Johnson "standing at the crossroads, trying to flag a ride," Dylan is "standing on the highway, trying to bum a ride." But where "Poor Boy Blues" copies Bukka White, on "Standing" Dylan doesn't attempt to duplicate Johnson's menacing mood. Instead of Johnson's difficult, halting guitar-style, Dylan's incessant guitar rolls along on an elemental, hypnotic riff that isn't far from the one he'd later employ on his masterpiece: "It's Alright, Ma (I'm Only Bleeding)." "Standing on the Highway's" themes of the persecuted outsider, the loner who's seen too much of life, but is still going to make it on his own, is the through-line of Dylan's entire catalogue.
The final highlight of the Leeds session is the tender "Ballad for a Friend." "We'd go up in that North Country, lakes and streams and mines so free/I had no better friend than he." This is the same open-hearted Dylan who would compose "To Ramona" and "If You See Her Say Hello." In his liner notes, Colin Escott writes: "in answering just enough questions to be compelling, while leaving enough unanswered to be enigmatic, ("Ballad for a Friend") was the first intimation of greatness." Unfortunately for Lou Levy, he didn't notice.
Shorty after the Leeds session, Albert Grossman became Dylan's manager and signed him to the larger, more prestigious, M. Witmark and Sons Publishing. According to Dylan, Grossman gave him a thousand dollars and sent him up to Levy's office to try and buy his way out of the Leeds contract. Levy was more than happy to receive the cash, having no idea that Dylan's next demo, his first for Witmark, would be the '60's anthem and worldwide hit for Peter, Paul and Mary, "Blowin' in the Wind." Oops.
The Witmark sessions took place in a six by eight foot studio on the fifth floor of the Witmark offices on Madison Avenue. The tape operators at Witmark ran their primitive reel to reel recorders at half speed in order to conserve tape which makes the sound quality vary from track to track. All are listenable, except perhaps for the last one, "I'll Keep it with Mine," which is muffled and pretty murky.
Here and there, through-out the rest of the tracks, Dylan clears his throat, he coughs, he corrects himself, he tunes his guitar, he taps his foot, he stops abruptly to comment on the songs and he cracks himself up. Somehow none of it is obtrusive. It all adds to the set's relaxed charm and the sense that you are there, in the room with Dylan, trying to take it all in. Snippets of never heard before songs are followed by first-ever recordings of future classics, which are in turn followed by remarkable, unreleased gems.
"Long Ago and Far Away," "The Death of Emmett Till" and "John Brown" are austere, confrontational protest songs that could have fit onto Freewheelin' or The Times They Are a Changin.' They are moving in the same way that Life Magazine's black and white photos of the Civil Rights Movements and the Vietnam War are still moving.
"Tomorrow is a Long Time," a hit for Judy Collins, is a gem. "If tomorrow wasn't such a long time, then lonesome would mean nothing to me at all." It's amazing that this lovely ballad didn't make it onto one of Dylan's early albums. His tender, assured guitar adds a nice, buoyant contrast to his forlorn lyrics.
"Let's just put this one down for kicks," Dylan says before performing "All Over You," an exuberant, unreleased, almost novelty song. "Well, I'll tell you little lover that you better run for cover 'cause babe, I'll do it all over you." Here the young, infatuated Dylan sounds like he has a rocket in his pocket.
"Long Time Gone" is reminiscent of Woody Guthrie's autobiography Bound for Glory and is a good example of how Dylan mythologized himself and his past. Dylan leaves home at twelve and one, he gets hassled in West Texas, he works in a carnival and he gets his heart stomped on. He "ain't no prophet and he ain't no prophet's son," but he'll keep on a-ramblin' even if he still can't flag a ride.
The final highlight of the first disc is the Joe McCarthy, Red Scare-baiting, "Talkin' John Birch Paranoid Blues." "I was looking high and low for them Reds everywhere/I was looking in the sink and underneath the chair/I looked way up the chimney hole/I even looked deep down in my toilet bowl/they got away…" "Talkin' John Birch Paranoid Blues" would be a funny artifact from the past if we didn't have politicians still employing meaningless, patriotic rhetoric and fear of outsiders to garner support. Dylan walked off the Ed Sullivan show when he wasn't allowed to perform this song.
The second disc begins with a beautifully understated "Don't Think Twice, It's All Right" which tops its Freewheelin' counterpart. There is no studio-produced echo on Dylan's vocal here which makes it more intimate and his finger-picking with its odd little pauses could be taken for the sound of his boot heels as he walks away down that long, lonesome road. (Okay, maybe that's a stretch, but this version is mesmerizing.)
Like "Don't Think Twice," "Boots of Spanish Leather's" unadorned vocal adds a level of poignancy that tops its released version. The demo is slower, which accentuates its sense of longing. The lover's dialogue between the departing woman and the man who can't let her go ends when the man loses the woman. Getting dumped might be worth it if you were inspired to write a song this exquisite.
A surprising number of gospel-tinged songs make up the last half of the second CD. "Whatcha Gonna Do?" "Ain't Gonna Grieve" and "When the Ship Comes In" are all original, gospel tunes. Here is Dylan, the admonisher, who would surprise so many with his Born-Again phase sixteen years later, and you can almost hear the call and response of the choir. Some critics have complained about Dylan's self-righteous indignation on some of these songs, but there has always been a fire and brimstone component to his art and he sings these with so much life you'll be tempted to sway and clap along. I realize this smells like hype, but I'm not exaggerating. If the sleepy church I attended when I was a kid had music like this I might still be a Catholic.
"The Times They Are A Changin,'" is also in the gospel mode with Dylan playing piano rather than the acoustic guitar that accompanies the released version. This is a startling, radically different song. Instead of the original's broadside, demanding the old power structures and political establishment to step aside, Dylan here sounds like he's prophesying the second coming. The battle outside is raging and the apocalypse is right around the corner.
"Mr. Tambourine Man" is also radically different from its released version. Dylan is again, alone on the piano, and you believe him when he sings that his weariness amazes him and that his senses have been stripped. This doesn't sound like a performance. It sounds like Dylan is deep inside his head, in his own reverie, slowly taking in his Mardi Gras-inspired, hallucinatory images. It's so intimate that you feel you've walked into an empty, after hours bar and that Dylan is unaware of your presence as he plays on the up-right piano in the corner.
The songs on this collection span just two and a half years and the evolution of Dylan's songwriting is astonishing. From the first session where he is still a Woody Guthrie acolyte interpreting Robert Johnson and Bukka White (and so many others) to the last where he sings: "take me disappearing through the smoke rings of my mind/down the foggy ruins of time/far past the frozen leaves/the haunted, frightened trees/out to the windy beach/far from the twisted reach of crazy sorrow," the trajectory is breath-taking. The final Witmark session took place in June of 1964 when Dylan was still just twenty-three years-old.
 Check out this great website for more Dylan info: www.expectingrain.com